Curtainsiders, Flat trailer, Moffet kitted trailers and Chipliners
For the local distribution of palletised or bulk bagged materials the rear mounted moffet forklift provides loading/offloading at site.
Various size trailers and moffet capacities available.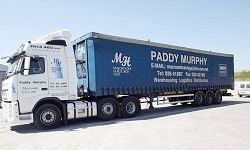 Curtainsider trailers for general haulage of palletised materials, bulk bags, liquid IBC's and bales of all types of materials. Our large number of ADR (Hazchem) trained drivers and in-house Dangerous Goods Safety Advisor, gives us the capacity to handle most load types.