About Us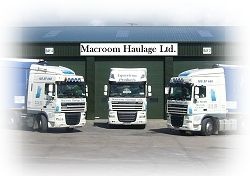 Macroom Haulage Ltd was founded in 1983 by Paddy Murphy. We have built up a considerable reputation in haulage, warehousing, distribution and associated services, with Paddy Murphy and his team offering single point responsibility, a high quality and guaranteed service to our clients.
Our company has been built on the back of quality service together with efficiency, which is ensured by the ongoing replacement of trucks and equipment ensuring a young fleet of vehicles..
In 2006 Macroom Haulage Ltd. continued our expansion with the acquisition of Transaction Ltd, a progressive locally based, bulk transport business and both staff and vehicles were integrated into the Macroom Haulage Ltd business. Pat McCarthy, the former MD of Transaction, is now Operations Director of Macroom Haulage Ltd, responsible for the transport management function of the fleet bringing over 23 years experience and expertise to this crucial role.
Macroom Haulage Ltd has developed as a family business to a position of market leaders in the bulk transport sector, it has specialised distribution capabilities, has invested in the creation of a highly trained management team. The importance of guaranteeing continuity of existing service and the continuous process of reviewing and developing new services to its customers, is now being assisted by Paddy Murphys' sons who work in the business. Macroom Haulage Ltd has developed and expanded over a quarter of a century to one of Irelands top ten transport firms by offering exceptional service, personal supervision , being highly competitive and productive through the use and application of equipment, personnel and management processes.
This combination of quality service and efficiency together with strong management ensures that potential clients will be guaranteed an efficient timely service.